Antler Chandelier Kit
Looking for the perfect decor solution for your rugged country home or mountain cabin? A homemade antler chandelier or additional antler furniture is the perfect option to spruce up the design of your home. Many professionally made antler chandeliers provide a convenient, beautiful way to decorate, but they can cost considerably more than the do-it-yourself option. Many creative homeowners opt use a build their own antler chandelier kit in place of purchasing the more expensive pre-assembled option. This is a completely feasible way to create a homemade, rustic chandelier, but keep a few things in mind before you head out to build your own.
Materials You Need
Naturally, you will need antlers to build your own antler chandelier. In addition, your new chandelier will need wiring and lighting elements in order to work properly. Many hardware stores provide an antler chandelier kit in one unit, making it easy to get all of the parts in one place. In terms of tools, you will need a drill to create holes in the antlers, and screws sturdy enough to securely attach all of the elements to each other and to the ceiling.
1101 The Ultimate Supply Make an Antler Chandelier Kit
Pre-Made Antler Chandelier Kit
Constructing a homemade antler chandelier may seem like a large, almost impossible undertaking at first glance. Some may prefer to buy a do-it-yourself antler chandelier kit, but these are potentially more expensive and more time-consuming than building one from scratch. Although these pre-made kits can seem like the best option, doing it yourself is just as easy and may save you some precious change.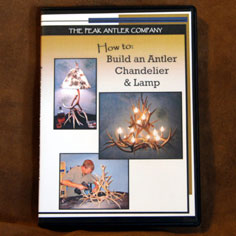 Step by step antler chandelier kit instructional DVD, Finishing Supplies, Tool Kits, and custom antler chandelier kit available, Call us with ideas for your own project! We love working with customers on new project ideas and modern designs.
Time and Labor
Creating your chandelier takes a surprisingly small amount of time and energy. Once you clean your antlers, you will want to arrange them in your desired pattern. Once you have chosen your design and drilled the holes for your wiring to go through, simply attach all of your elements using secure anchoring screws and run the wire. Once finished with these steps, follow the instructions with your chandelier kit to suspend your chandelier from the ceiling and you are good to go.
Want to find more antler lighting and furniture inspiration? Contact us to see what we have to offer!