The Peak Antler Company using Antlers in Mountain Modern Interior Designs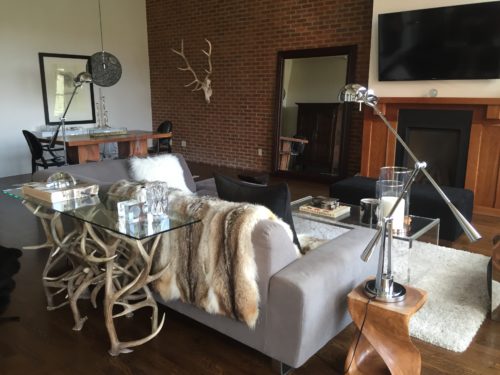 Using an antler sofa table in a condo mountain modern design. Aspen, CO
Showcase your style with our antler chandeliers and custom made antler products. Mountain modern highlights the beauty of the great outdoors with class and elegance. Light up any space with antler chandeliers, a modern touch on decorating that combines classic wilderness motifs with fashionable design touches that will impress your family and friends. Relax in style with furniture that uses antlers to feature mountain modern design aesthetics. The Peak Antler Company creates beautiful design elements that perfect the look of any place that uses this stylish design trend. Contact us today to get started with your dream interior design.
Custom design approach fit antler chandeliers into Classic or Mountain Modern Styles
Our innovative designs are contemporary touches that use antlers to enhance the look of any space. Light fixtures such as chandeliers and lamps transform your room into a mountain modern masterpiece. Good lighting can provide ambiance and expands the look of the room. Let your personality shine through with one of our light fixtures. If you are inclined to DIY, consider purchasing a DIY How to Make an Antler Chandelier dvd. When people ask where you got your focal piece, you will be able to say that you made it yourself.
Mirrors can move light around a space and make it look bigger. Consider one of our antler mirrors for the bathroom to leave an awesome impression. Another way to incorporate the mountain modern style is with chairs or tables created with antlers. Sit back on a bench or tend to your fire with these antler pieces. Music lovers consider upgrading your rehearsal space with an antler guitar stand. Contact us today about the many ways our products can help you fit the mountain modern design into your home.
Jeff Musgrave - owner/artist