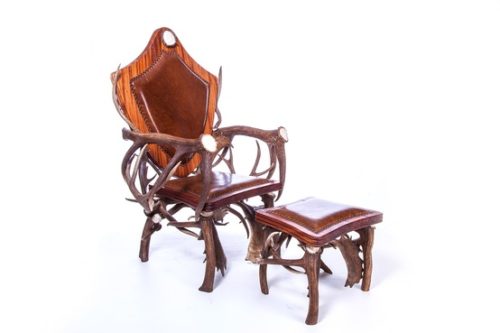 As our world becomes more aware of nature and it's beauty many people are incorporating nature into their decor, such as in an antler chair. Wall art, stairwells and chandeliers are common but we have taken love of the outdoors to the next level. Wooden furniture made out of branches and rustic wood have been popular for some time. Many people love to bring the peace and calm of the outdoors into their homes. They can feel and appreciate nature everyday.
The future for your rustic cabin or mountain lodge is this chair. It is more like a throne. Make a statement with this Elk and Fallow Antler Chair with Ottoman. Elk and fallow deer antlers make up the base of the chair along with African mahogany wood. The position of the materials are strong and steady and are crafted with precision.
The seat and back of the chair are covered in top of the line leather. This is craftsmanship at it's best. This chair was custom-made and was made for your rustic home.
Guests and visitors will be amazed at the intricate carvings around the seat and back of the chair. This chair exudes strength and power. It is a centerpiece and makes a statement in your home.
Based in Colorado, Peak and Antler Chandeliers creates many custom pieces made of wood, antlers and other natural materials. All works of art are created to be structurally sound and beautiful. Requests are always welcome and creators do their best to fulfill your vision. Contact us to bring the outdoors in.