Custom Antler Chandeliers
by The Peak Antler Company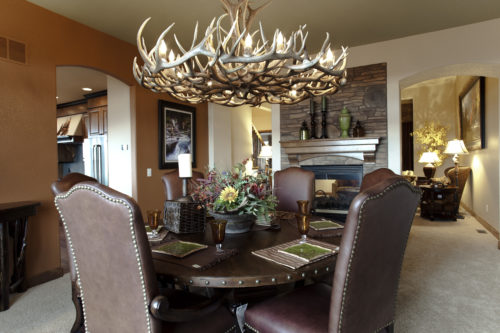 Antler chandeliers can fit a variety of decor themes, from minimalist, to antique-inspired, to eclectic settings. Where you choose to place an antler chandelier in your home is up to you. Whether your working with an interior designer or your renovating your home, our chandeliers make quite a statement.
What's your chandelier style?
Rustic & Modern: Antler chandeliers go well with modern interiors that have a rustic edge. Consider an antler chandelier above a minimalist sofa with a faux-fur rug and a fireplace nearby. The chandelier can be a focal point to a room that is deliberately simple in many other aspects.
Traditional: If you prefer traditional wood furniture and color tones, antler chandeliers can have a timeless look. Place an antler chandelier in your home bar or study to accentuate deep hues and luxurious textures. Place the chandelier near timeless paintings and antiques.
Country: Our chandeliers naturally work well with country and outdoors-inspired decor themes. Add an antler chandelier to your vacation home in the mountains. Whether you enjoy skiing, hiking, or hunting, antler chandeliers add country-style to a home for people who love the outdoors.
Eclectic: Perhaps you like to decorate with a little bit of every kind of style. Your home might have traditional tables, curtains with a modern flair, and artwork that spans different decades. Regardless of your personal style, antler chandeliers can add a quirky and charming look to your home.
Chandeliers made with antlers look amazing with nearly any design preference. Work with interior and home designers if you would like customized advice about where to place your chandelier. If you would like more information about antler chandeliers, contact us.