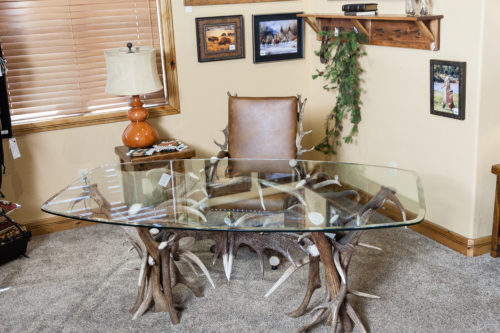 Many people today have an office in their home. If you're thinking of setting up an office or remodeling using mountain modern design, you might want to consider some unique furnishings, such as stunning home office antler decor.
Desk – Imagine entering your office and seeing a magnificent, elk antler desk with a huge glass top. The base of this desk — made of naturally shed, large elk antlers — includes a gorgeous, hand-carved eagle. The clear glass top allows one's focus to remain on the antlers and showcases the overall, artistic flair of the desk. This desk comes with a leather upholstered chair that is skillfully accented with buffalo nickel nail heads. The antler arms and legs of the chair are beautifully handcrafted to match the desk.
Overhead Lighting – To work efficiently and effectively, good overhead lighting is a necessity. An ordinary light does nothing to enhance your decor, so you might want to consider using a truly majestic antler chandelier. Chandeliers come in a large variety of sizes and even antler types, so you can find the perfect one for your office decor. Antler chandeliers are a beautiful addition to any room and look particularly impressive in a rustic setting with complementary furnishings.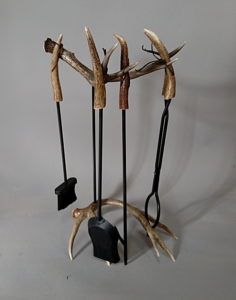 Accessories – If you have a fireplace in your office, you'll want a fire tool set with mule deer antler accents to match your other antler pieces. A large, moose antler sconce placed between two tall bookcases will add even more character to the room. It also provides extra light for when you're searching for a particular book or item on one of the shelves.
With such a stunning home office antler decor, you'll look forward to spending a lot of time in your office. For more antler decor ideas, contact us today. We have items that you won't find anyplace else, and all of our furnishings are artistically handcrafted right here in America!