DIY Custom Antler Home Furnishings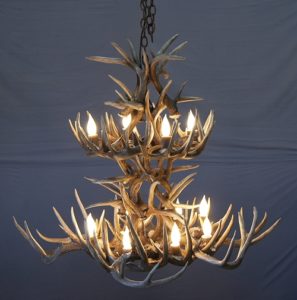 If you're a DIY project enthusiast or like to get crafty with hand tools, did you know you can make your own antler chandelier? There are plenty of reasons to create your own distinctive antler chandelier or lamp. Let us count the ways:
1. Make it your own: One of the most obvious reasons to create your own chandelier is the opportunity to make it your own. You pick the antler sheds and you control every aspect of how it's created. Our DIY video will guide you on how to put together your project. Use the supplies in the kit to create the antler chandelier or lamp of your dreams for yourself or a loved one.
2. Enjoy a unique home decor challenge: If you're a decor enthusiast or if you just like new DIY challenges, make your own antler chandelier. You could blog about your experience or post the process on social media.
3. Bragging rights: At the end of the process, you get to brag about the personalized, unique addition to your home that you put together. Tell friends and family about your experience creating your own antler decor piece. Similar to other DIY crafts, the story is usually part of the charm.
4. Create a woodsy ambiance: Whether your home has a modern design style or has a traditional country theme, a DIY antler chandelier adds customized appeal. Hang the chandelier in the dining room or the living room, or wherever your heart desires. Antler sheds are a wonderful reminder of nature that can fit nearly any decor style.
So roll up your sleeves and get ready to make the antler lamp or chandelier or your wildest dreams. Of course, if you're not in the mood to DIY your own antler chandelier, you can also have a Peak Antlers chandelier expert make your chandelier for you. To order a DIY kit or to request more information about options, contact us.