CREATIVE WAYS TO USE MOUNTAIN MODERN ANTLER DECOR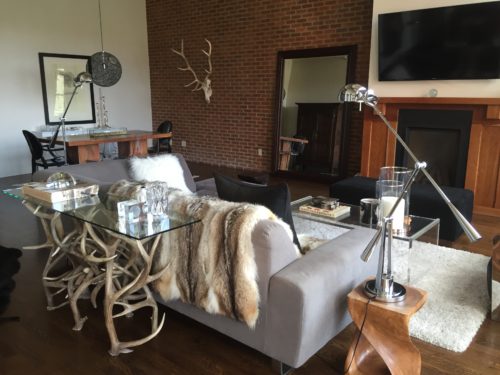 Antler decor is more versatile than it seems. From huge mountain homes to cozy cabins, antler decor gives rooms extra charm that's hard to describe. The natural appeal of found antler sheds add a sense of adventure, whimsy, or earthiness to many interior styles such as the above Mountain Modern design in Aspen, CO.
Do you know your antler decorating facts?
1. Antler decor only belongs in the dining room.
False. Antler home decor is a beautiful addition to any room. Place an antler chandelier in a large entryway, or an antler coffee table in a home library. Use antler decor near fireplaces in the living room, or antler decor in a home bar.
2. Antler decor can be traditional or modern.
True. Naturally shed antlers lend beauty to many interior design styles. The antlers can accentuate natural tones and textures with modern minimalist decor styles. Of course, antlers also naturally complement rustic or country interiors.
3. Antler decor only includes chandeliers.
False. Ranging from bar stools to antler lamps, new antler decorating designs cover a wide range of items. Consider an antler desk or an antler guitar stand. Place antler sconces by a fireplace or in a hallway. If you can imagine it, it probably exists or can be created for you.
4. Antler decor can be a gift, chosen by interior decorators, or a DIY project.
True. You can give antler home furnishings as a gift to family or friends who are updating or building their dream home. Interior decorators may also choose antler design products to complete a home design project. Our DIY kits are also useful for those who wish to make their own antler chandelier or lamp.
5. Antler decor is seasonal or regional.
False. Antler home decor looks great all year round, and often adds a timeless addition to a home. Whether you live in an urban environment or in the woods, antlers add unique appeal to many home settings.
If you would like more information about our selection of custom made antler home decor, contact us.