Custom Antler Lighting, Antler Chandeliers Created with an Interior Designer Plan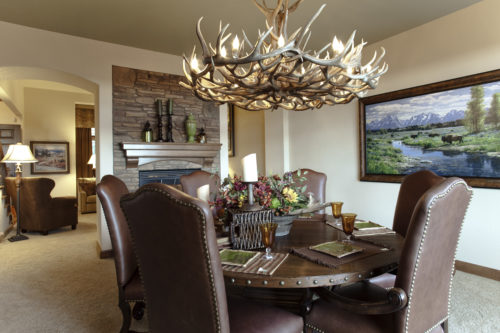 Lighting is the interior designer's best friend. Proper illumination has the ability to highlight the thoughtful arrangement and composition choices made throughout the room, drawing the eye to points of interest and accents. In turn, unbefitting lighting can drastically take away from an otherwise spectacular space. Since your choice as an interior designer in the way your projects are lit carry a heavy importance, considering a custom piece created specifically for your design is an astute choice!
Especially for clients building their dream home, unique pieces of interior design are important to them. Their house is unlike any other and they want their lighting to be unlike any other as well. All chandeliers at The Peak Antler Company are handcrafted and one-of-a-kind. There is no mass-production work when it comes to naturally shed, organic antlers from white tail deer, mule deer, elk, moose or fallow deer. This ensures that the artistic aspect of the chandelier will be extraordinary and exclusive. Craftsman Jeff Musgrave works with each interior designer's requests and specifications to create an installation of art that perfectly suits your client.
With only one craftsman building your custom piece, you can rest assured that the production is of the highest quality. At The Peak Antler Company each chandelier is structurally designed to be functional and last for a lifetime. In the designing process, every antler is placed inside the lighting fixture in a way that brings out their individual character. Symmetry and cohesive patterns ensure that the overall look will be aesthetically pleasing to the eye. This thoughtful process generates a piece that is exquisitely stunning.
Homeowners hire interior designers to ensure that the composition of their home's inside is professionally planned. They rely on you to make the choices they might not think of when it comes to creating rooms that are decorated in a balanced way. You have the knowledge to use focal points, such as custom lighting, to draw the eye upwards and accentuate the stature of the walls or the grandness of the room. Whether your client has a rustic taste and is building their dream ski lodge in the Montana mountains or has more of an eclectic taste with furnishings from all genres of design, having a custom antler chandelier creates the centerpiece they are relying on you to design. Crafted from a natural product found in the forest, antlers provide a very organic feel. Their neutral color pairs well with all chromatic schemes, making them perfect for any style of room.
Here at The Peak Antler Company, we pride ourselves in crafting the highest quality creations with unlimited customized features so that you, as the interior designer, can compose the perfect room for your client. Contact us for more information on how to get started designing your custom antler chandelier!