Custom Antler Chandeliers
When choosing types of antlers for an antler chandelier, there are many aspects to mull over. There are subtle and obvious variations among different types of antlers, ranging from White-Tailed, Elk, Moose to Mule. While each antler is a unique find, here's a general overview of the characteristics of antler types:
Elk antlers tend to have a winding, organic look, such as our 6 point elk antlers. The antlers can be quite large – and these types of antlers are often the first thing people think of when visualizing antlers for decorating. The points are very profound, and the antlers often boast a light golden yellow to brown hue.
Mule deer antlers can have a rich brown tone with interesting textured details and many points. These antlers swoop upwards on the mule and can have a majestic span. These antlers look thick and sturdy. The curves often compliment lighting design on a chandelier.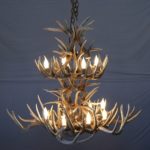 The antlers of White- Tailed deer often display a light tan hue. They may be smaller compared to other types of antlers, but just as useful for chandelier designs. Consider a chandelier with a series of White-Tailed antlers intertwined together for intriguing repetition of color and structure.
For a dramatic look, consider moose antlers for your next chandelier. These antlers have thick edges and wide points. With rich brown hues, moose antlers pair well with various other types of antlers when it comes to unique chandelier art.
The antlers of Fallow Deer have wide areas and beautiful woodsy tones. The edges of the antlers have rounded points and edges that look soft to the eye. Consider a Fallow Deer antler pendant with just two antlers for a more minimalist look.
Peak Antlers specializes in creating amazing antler chandeliers for interior decorators or home-owners. If you would like more information about buying an antler chandelier,
contact us
.
Jeff Musgrave – owner/artist