Custom Antler Home Furnishings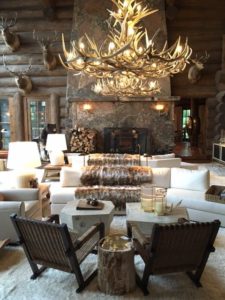 If you're redecorating your home and looking to make a distinctive and elegant statement, consider using antler decor in your formal living space. Made from naturally shed antlers, just a few pieces of well-placed antler furniture will transform your living space from drab to dramatic!
Coffee Table — In front of your couch, imagine a stunning table with an antler base holding up a rectangular glass top. The clear glass top allows an unobstructed view of the artistically designed antlers below. This sturdy piece of furniture will last a lifetime and bring a truly unique beauty to your home.
End Tables — Along with your coffee table, you'll want a couple of lovely end tables for your space. These tables are also made with an antler base and a glass top, so they'll perfectly match your new decor. Choose from a round or a square glass top. Exquisitely crafted, both designs make a great addition to any home.
Table Lamps — Atop your end tables, place a mule deer or whitetail deer antler lamp. The base is expertly designed to show off the splendor of each gorgeous antler. The table lamps even come with an antler finial. All of the wires are also hidden inside the antlers to keep the look pristine.
Chandelier — Finally, to pull the look of the room together, consider an antler chandelier. These come in a variety of sizes and antler types. Choose from elk, fallow deer, moose, mule deer, or whitetail antlers. The majestic design and symmetry of whichever chandelier you choose will create a true conversation piece in the room.
For additional design ideas on how to use antler decor, please contact us today. All of our designs are exclusively made in America. Our antler furniture, lighting, mirrors, sculptures, and accessories are true pieces of art that can enhance any home!
Jeff Musgrave – Owner/Artist
email: jeff@peakantlers.com