Antler Decor for your Pool Table Room
If your pool room is looking a bit boring or ordinary, then it's time for a change. For those who love the rustic feel of the Old West, consider recreating that look using antler decor. It takes only a little imagination and the right style to make it seem as if you've stepped back in time.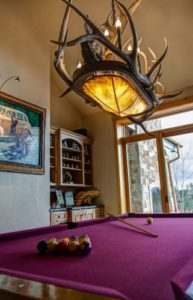 Your pool table is, of course, the focal point of the room. Make it stand out even more with an
antler chandelier
hanging above it, providing the light that you need. You can go big or small, depending on the space. Either way, these types of chandeliers will bring the feel of the Old West right into your room while still providing upscale style.
Consider installing a bar made from reclaimed wood in your pool room, if you don't already have one. Using antler bar stools will immediately make the bar feel like an establishment found years ago in historical western times. If you're interested in something even more unique, our antler bar — dubbed "The Saloon" — is something you won't find elsewhere as it was specifically created for The Western Design Conference Exhibit, and it's truly a work of art.
For additional comfort in your room, large elk antler chairs with genuine leather seat cushions are a perfect addition, along with one or two antler end tables. You can sit and relax with friends, while trading stories, like the cowboys used to do in traditional Old West saloons. If you want to include a television in the room, but don't want to ruin the historical feel, use a wooden cabinet with doors that you can close to hide the modern electronics when they aren't in use.
For a final touch, add a custom-made antler guitar stand in one corner to complete the look of the room. Your friends and family will love it when you entertain them in the same way that travelers of old did. Your newly designed room will quickly become the favorite gathering place in the house.
For more ideas on antler decor,
contact us
today. We offer exclusive antler decor that is American made with naturally shed antlers. We specialize in custom work to suit specific requests!